In the sea of silence there is an island of sound called
Zaruk is a sonorous dream brought to life by the cello of Iris Azquinezer and the guitar of Rainer Seiferth in a crossover between classical, modern and popular music.
Both artists are musical omnivores who have created their own genre, where composition and improvisation, minimalism and virtuosity, rigour and freedom work hand-in-hand. The playfulness and the complicity between the musicians awaken a particular curiosity in the listener, which is essential for believing in both reality and imagination at the same time.
Zaruk performs in different instrumental combinations from duet to quintet by inviting special guests such as vocalist Maria Berasarte, the reeds player Andreas Prittwitz , and percussionist David Mayoral. The artistic essence of each of these musicians brings its own kind of alchemy to the different forms of the group.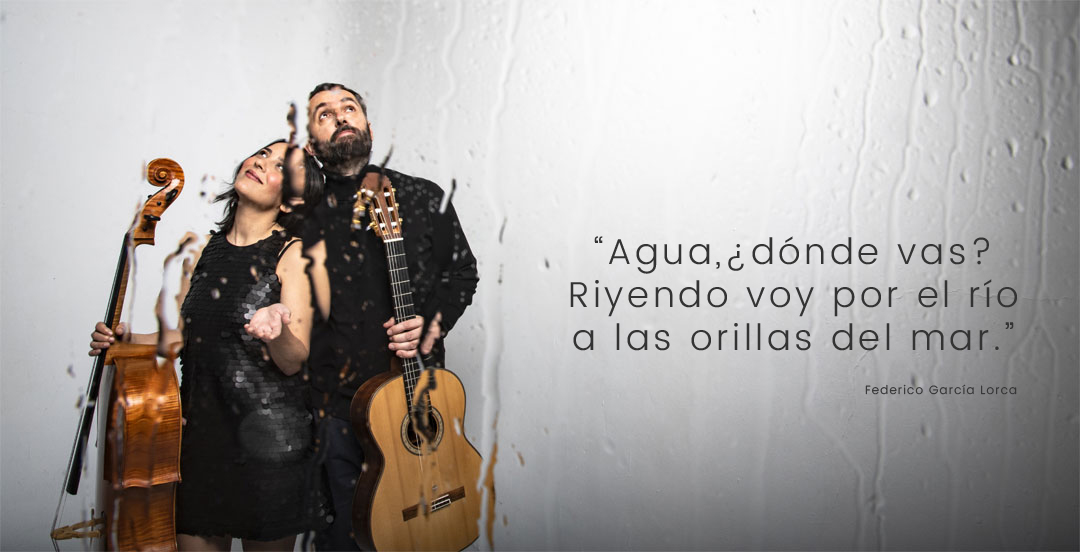 Mankind sings to the water that we are made of, which quenches our thirst and unites us. Zaruk´s second album breaks down labels to create an aquatic kaleidoscope from music inspired by the popular songs of different cultures, new arrangements of classical works by such as Jean Sibelius and Francisco Tárrega as well as original compositions and free improvisations on water and its different forms.
The music, fused with the poetry of the greats, sounds like the river's flow, a teardrop that contains a storm while a woman sings a lullaby on the seashore.
"Agua is a beautiful and intimate recording in which the delicate dialogue between the guitar and cello stands out. That together with the well chosen collaborations make time fly while you listen to it and make it totally recommendable." [Pedro Téllez. Melómano]
"…the best thing you can do is listen to Agua. You'll thank me for the recommendation." [Eduardo Torrico. Scherzo]
"In the musical and creative maelstrom of Iris and Rainer, there is time to move away from the main road and head down paths where the hallmark of the performance is magnificent and careful." [Miguel Ángel Pérez Martín. Doce Notas]
«Avridme Galanica
Que ya va'amanecer
Avriv ya vos avro
mi lindo amor
Esta noche ya no durmo
Pensando a vos.»
Zaruk was born and grew up with this repertoire. Stemming from the
Sephardic musical legacy
, tinged with melancholy for the loss of the homeland and rich with the life of the diaspora, Zaruk creates its own language in an open and creative interpretation where pleasure knows no bounds. The fragrances and influences of the artists´ journey are blended with melodies that have been passed down from generation to generation, transformed and reconfigured with each breath.
Guided by the oral tradition from Sephardic culture, Zaruk adds a new chapter to its long history of melodies.
"This is undoubtedly a gem, one of those rare jewels that occasionally appears and overwhelms us with its beauty." [Carlos Monje. Diario Folk]
"Classical background as well as different influences between contempary and traditional (reaching from Early Music to Jazz, Folk and Pop) enrich this minimalistic, still wide-opened approach to the ancient songs of the spanish jews." [Katrin Wilke. Folker Magazine (Germany)]
"Azquinezer and Seiferth share out the melodies, acing them, glossing them, reinventing them, playing or crying with them and praising the world." [Pierre Élie Mamou. Scherzo]
Torrelodones (Madrid)
Sala Babel
Madrid
Off Latina – Concierto Familiar

Madrid
Centro Cultural Pilar Miró
Information and booking in Spain
Information and international booking
+44 7460752425
+34 607746919
ZARUK © 2022 – All rights reserved
WordPress Web Designer Madrid